27 12 2016
VMware Unlocker for running macOS / OS X under Linux and/or Windows
UPDATE 05/2017: when updating VMware workstation, the suspended/paused OSX VM seems to work fine but won't boot up again (e.g. after updating to the latest OSX version which requires a reboot). I had to reinstall the unlocker and it's working again … i'm still using unlocker v2.0.8 but on git there is a 2.0.9: https://github.com/DrDonk/unlocker OSX 10.12.4 is working, too.
Install VMware Player or VMware Workstation from http://www.vmware.com/products/workstation-for-linux.html
In order to see "Apple OSX" you need to install VMware Unlocker:
http://www.insanelymac.com/forum/files/file/339-unlocker/
VMware Player is free for personal non-commercial use. Please consider licensing VMware player and/or workstation if you are using this for commercial / business purposes. Thank You!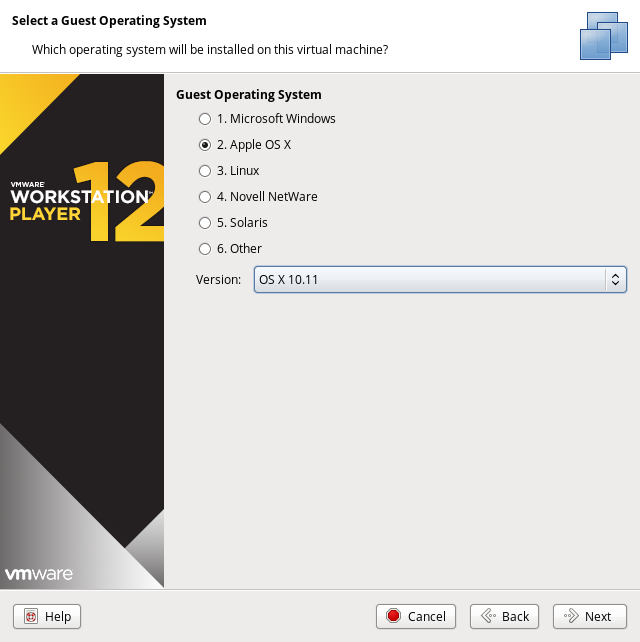 IMPORTANT: (Note: in VMWare 12.5 i didnt have to do this anymore:)
If you create a new VM using version 11 or 12 hardware VMware will stop and create a core dump.There are two options to work around this issue:
1. Change the VM to be HW 10 – this does not affect performance.
2. Edit the VMX file and add:
smc.version = "0" |
Hint: the button "VM -> Install VMware tools" doesn't work, just manually mount the "darwin.iso" file that has been downloaded by the unlocker and install the tools. Worked for me with OSX 10.12.2 also!
InvoicePlane: self-hosted, open source, web-based Invoicing tool (cross plattform) based on php/mysql Running Apple OSX 10.12.2 macOS Sierra in VM VMware workstation player under GNU/Linux Elementary OS